Learning is Fun on the Farm!
An educational school field trip to CornDodgers Farm is exciting for students and teachers! Our learning barn offers a wealth of info on crops. Meet farm animals, take a hayride, explore a corn maze, and enjoy a dozen or more exciting activities. Reservations are required.
2020 Season: October 2 – November 4
Public/Private Schools
Thursdays and Fridays in October 9am-1pm.
Fee: $8 per student.  $6 per chaperone. Teachers and bus drivers are free. Reservations required.
Homeschool Day
October 19 9am-1pm
Fee: $8 per visitor, ages 3+.
Reservations not required for this day only.
PreSchool Only!
Due to COVID-19, we will not be hosting our regular preschool days.  Please contact us to get your reservations instead.
Reservations are required for all school field trips except those noted as a "Homeschool Day" or other such designation.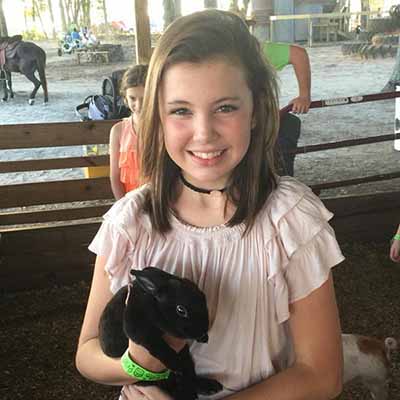 What's included:
Our field trips are set up in a rotation format.  Students are usually kept with their class except during free play time.  Note: Slide, maze, and animal barn are closed during free play.
Explore the Corn Maze.
Giant Slide (1 trip down slide per student).
Take a farm Hayride.
Shoot the Corn Cannon (1 shot per student and teacher, additional shots 3 for $1 if time permits).
Sunflower planting in Crop College.
Other activities: Corn Box, CornDodger Ball, Jumping Pillow, Cow Train Ride, Animal Barn, Tire Pyramid, Duck Races, Tug of War, Barnyard Ball.
Free play if time permits
Crop College
It's our learning barn! Students will be treated to displays on corn, cotton, pumpkins, sunflowers, satsuma oranges and farm animals. Educational videos are shown, time permitting.
More Information:
Upon arriving at the farm, students will be given an overview of the rules and the general schedule of the day.  Teachers will be given a copy of the rotation sequence and advised where to begin.  We reserve the right to remove any child (or adult) from the activities if rules are not obeyed.  We have developed this rotation schedule over several years and have found it the best way to ensure every child gets to participate in every activity without overwhelming chaos.  Please stay in your rotation unless otherwise instructed by Eric or Amanda.
Students will also be given a bottle of water upon completing the maze.  These are handed out by class only.
Climate controlled restrooms are located behind the lunch area, next to Barnyard Ball.  They are handicap accessible.
Lunch is available for order.  Adults MUST place lunch orders upon arrival or no lunch food will be prepared.  General concessions (snacks and drinks) are available without pre-order.