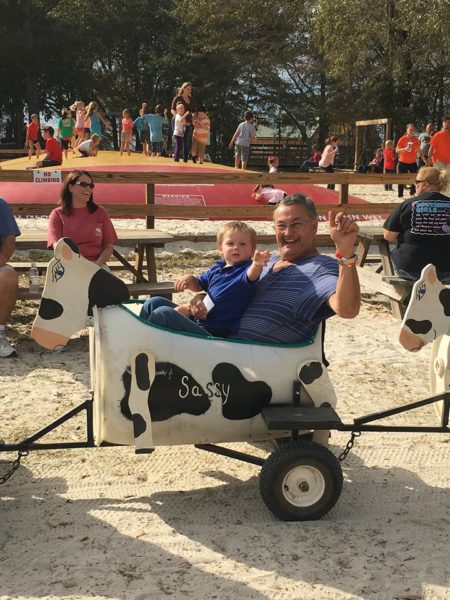 Have a party at the Farm!
Birthday parties are our specialty, but we can help you celebrate any type of family event. With 12 acres of room to roam and more than a dozen activities to enjoy, a CornDodgers party will be memorable!
Happy Hoedown
Attractions available depend on season
Fee: $400 (effective 9/1/23)
January-September 20, November, December (off season)
3 hours at the farm (2 hour party, 1 hour set-up/clean up) for up to 24 guests (plus birthday child and two parents/chaperones)
Activities: Cow train, Giant Jumping Pillow, Tractor Playland, Farm size Jenga, Tire pyramid, Tug-o-war, Duck Races, Barnyard Ball Zones, Konk the Crow, Corn Hole, Sunflower Checkers, Farm-sized Foosball, Hop Along Corral, Birdhouse Ball, Sunflower Skee Ball, Rock Wall, Pumpkin Express Mini Zip Line!
Food: Cheese pizza and chips (1 slice per person), 24 ice cream cups, and water, sweet tea, or lemonade. Extra food may be ordered if you have more than 24 guests.
We provide table covers and paper goods.
Candy shoot: A personalized bag and shoot from our candy cannon makes the perfect party favor and is INCLUDED!
Party Add-ons (off season):
Additional Guests
For parties with more than 30 guests in attendance…$50/10 guests
Pony Rides:
Unlimited rides walking around farm, 2 hours during party … $150
Lost Yer Mine Goodie Bags
Kids can mine for gemstones, fossils, sea shells, plastic farm animals, and more!  Get a personalized treat bag with the birthday child's name and date … $3.50 per child (birthday child free).
Wagon Ride:
Wagon ride around the farm, similar to the hayride in the fall … $25
Cupcakes:
Two dozen vanilla, chocolate, or red velvet cupcakes with dyed buttercream frosting…$40
Happy Hoedown Party Details
No outside food or drink allowed except for birthday cake.
A $50 deposit is required upon booking. Your date will not be confirmed until deposit is received.
We accept checks, VISA, MasterCard, Discover, and American Express.
Please note, we are an outside attraction and subject to weather beyond our control.  Should we have to cancel your party, we will make every effort to reschedule.  In the event, we cannot reschedule, a refund will be issued.
Please note, we do not host birthday parties while we are open to the public.  A party area may be reserved for up to 2 hours.  Fee: $35 payable at booking. No outside food or drink allowed except birthday cake. Food and drinks may be ordered upon request. Party guests will be admitted at our online rate of $14.97 plus tax.