Every parent dreads the potty dance and those three little words…"where's the bathroom?" No need to fear here!  Climate controlled and handicap accessible restrooms are located immediately behind The Crooked Porch and behind The Rustic Rooster.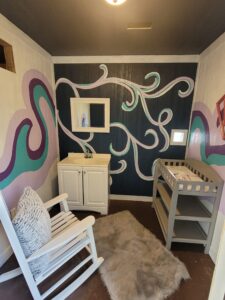 Check out our climate controlled baby rooms.  Located in the "city" behind The Crooked Porch, they feature changing tables, rocking chairs, diaper chutes, and sinks. So whether the little guys need a change, feeding, or just a break from all the hustle and bustle, we've got you covered!
Diaper changing stations are also located in the family restrooms behind The Rustic Rooster.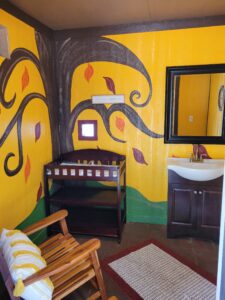 Just a little housekeeping
Handwashing sinks are located on the porches of both restroom buildings and at the animal barn exit.  Hand sanitizer dispensers are located throughout the farm.
We take cleanliness and littering very seriously here at CornDodgers (we'd really hate to see you in Corn County Jail–wink,wink).  That's what those black and white barrels are for, y'all!  We do our very best to make the rounds every hour on the hour but if you notice anything that needs our immediate attention, just give us a holler!